Long before a blast is heard or felt, extensive planning and preparation by one or more blasting professionals occur. Most importantly, for every step of the blasting process, safety is the first priority.
Document Review
Documents may include permit or project specifications. These documents often outline the excavation plan and may also incorporate:
A site map with nearby buildings and utilities.
Excavation depth and grade.
Rock type.
The maximum amount of explosives in a blast.
The maximum levels of ground vibration and air overpressure allowed.
Allowed blast times.
How nearby residents should be informed.
Local regulatory contacts.
Site Examination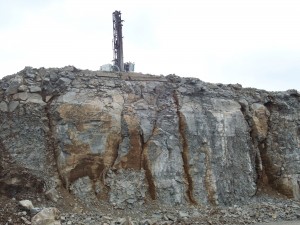 Blasting professionals will examine the site to evaluate the field conditions. Field conditions that influence the blasting plan include:
Geologic conditions including rock type and irregularities such as faults, cracks and voids.
Existence of surface and ground water.
Changing terrain and elevations.
Excavation equipment available.
Proximity to structures like homes, businesses and underground utilities.
These are just a few of the items the blasting professional must evaluate during the preparation phase to plan a blast that will perform well.